Monthly Image Section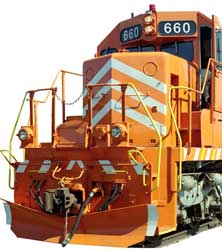 On Saturday, May 28, 2005, the Elgin, Joliet & Eastern Railway allowed a special passenger train run for Ronald McDonald House Charities of Chicagoland and Northern Indiana. This was the first public excursion allowed on the EJ&E in recent history. Below are pictures of the train as it sits in Waukegan, IL while power is run-a-round for the return back to Chicago.
The train consist was as follows: Amtrak P42 66, EJ&E SD-38 660 & 663, private cars Skykomish River, Montana, Caritas, Pointe St. Charles, Puget Sound, Sierra Hotel, Little Juniata Rapids, Warrior Ridge and Pennsylvania 120.
[Click on images to enlarge / back button to return]
Above images © 2005 Derek Dawdy
All Contents and Images © 1994 - 2012 by Daniel S. Dawdy and Ribbon Rail Productions
No part of this site may be used or reproduced on other sites or in print without the permission of